Stolen, damaged, or Lost car keys not opening locks? If you lose or break your car keys, you may need car key replacement services.
Car keys can break if used on the wrong lock, and this happens more often than you think. Most folks have other keys on their key ring. Keys are often misplaced, and forcing the wrong key into a lock might damage or break it.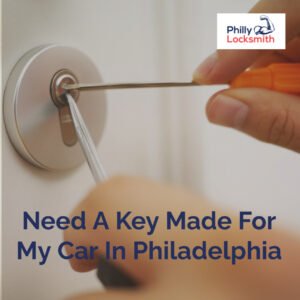 Replacement of car keys
Your plans and your day can be thrown off if you lose your car keys. It reduces the ease with which you can use your car. You'll have to take the inconvenient public transportation or hire a cab. Our team of skilled vehicle locksmiths can quickly do a car key replacement near me. We can also produce you a spare car key, ensuring that you never lose your car key again.
Programming essentials
You may need to improve the efficiency of your vehicle's locking and unlocking at times. We can program your car's engine control modules and units, as well as build a smart key built to order for your vehicle, at Philly Locksmith. If you want to upgrade your car key to match a more advanced model, we can program it for you. We can also develop a Push-to-Start key using programming technologies for a unique look and customization of your car.
We are licensed and certified locksmiths who can provide you with the best services in the area at reasonable pricing.
Repairing the Ignition
Wear and tear on your car ignition slot might cause it to malfunction, causing your keys to get trapped. If this happens, call Philly Locksmith to have your ignition tested. If your automobile key breaks within the ignition, call Philly Locksmith. Our auto locksmiths may come to you anywhere in Philadelphia to fix your ignition. We may have to replace it if necessary.
Car ignitions vary. Some cars have easy-to-replace lock cylinders. Other car brands and models have better lock cylinders. They are difficult to repair. For the ignition switch to work, they must be re-coded. So your car starts. A broken ignition lock cylinder will not work. So, if you have ignition issues, only a pro should help you.
We also do ignition rekeying. A rekey is a terrific option because it gives you a new set of keys and a new ignition set. Just tell us your car's make, model, and year of manufacture. This information is vital to us since it allows us to provide you a replacement cylinder, key, or both. The problem will be fixed if it persists.
Partnering with Philly Locksmith has many advantages. Our prices are low, and our specialists know most vehicle makes and models. Your vehicle, whether ancient or European, is safe. Philly Locksmith can repair or rebuild a damaged ignition.
In Philadelphia, car key replacement and emergency locksmith services are available.
We know how frustrating it is to lose or lock your keys in your automobile. Previously, the only options were to break into your car or find alternate transportation. Call a cheap locksmith in your neighborhood before trying any of the suggestions. Philly Locksmith is the locksmith to call.
Our automotive experts work rapidly to fix car difficulties. If you're in Philadelphia, you're dealing with the greatest. Our auto key locksmith services are reliable and affordable. Everyone benefits from our experienced replacement services. So our customers consider us family.
We don't want you to crash. So we provide this specific service. We'd also like to save you money by avoiding car repairs. Our Philadelphia auto locksmiths can get your car back on the road quickly. You may trust us as our clients do. They trust us because we provide excellent customer service and cost-effective solutions.
We can also aid with other automobile key emergencies. Philly Locksmith offers auto key services such as:
Services for Key Fobs
A key fob is a little gadget that allows you to remotely lock and unlock your car. A key fob can also be used to disable the alarm and open the trunk. The key fob also acts as a coded lock mechanism, helping to keep your car secure.
Key fobs are helpful till the batteries die. If this happens, you'll need a pro to change the batteries. Also, each key fob has a unique code for each automobile, making tampering difficult. Most cars have a car alarm incorporated into the key fob. The alarm system requires a key fob remote that can arm and disarm the car's alarm. An expert can assist you replace your key fob.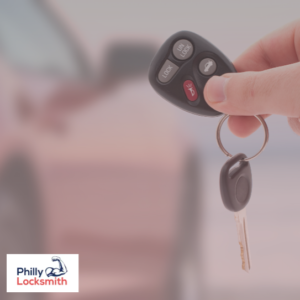 With key fob and smart key services, you can lock and unlock your automobile with ease. Key fob programming, key fob battery replacement, and key fob replacement are all accessible. We know you don't have time to waste, so we promise car key fob replacement services faster than your local dealership.
Extraction of a broken key
Wear and tear, as well as the use of excessive force, can cause car keys to break off while in locks or ignitions. Our locksmiths in Philadelphia can retrieve broken keys from any lock. You do not need to be concerned if your automobile key broke while inside the ignition. 
We don't simply look after your car; we also look after your money. Our locksmith specialist provides low-cost vehicle key locksmith services without sacrificing service quality. We look forward to working with you and offering customized services to all of our customers as an insured and bonded local business. 
Just call Philly Locksmith at (267) 433-6636 for help with getting a Key Made For Your Car In Philadelphia  We're always here to help!