Transponder Key Replacement | Auto Chip Keys
Philadelphia Chip Key Replacement
Transponder keys, commonly known as chip keys, are used to make cars harder to steal. Because chip keys involve sophisticated technology, unlike basic car key replacements, changing these car laser-cut keys is more complicated and costly. Call a nationwide automotive locksmith or a Philadelphia transponder car key replacement locksmith. We will send a Philadelphia locksmith to replace your chip key!
Philadelphia Transponder Car Key Replacement Locksmith
You've probably had the terrifying feeling of realizing you've locked your keys inside your vehicle. It usually happens when you're on vacation, on your way to an important meeting, or already late. With transponder keys and increased car security, you may find it difficult to unlock them yourself these days.
Transponder keys, as well as a spare transponder key, increases vehicle security in two ways. They make 'hot wiring' or breaking the ignition lock useless, which helps deter and prevent car theft. The automobile will not start if the microchip or exact serial number of the key is not detected. A transponder key's digital ID is virtually unique, whereas a regular ignition key has just a few basic cut combinations.
Need a locksmith guy or gal?  Either call us at (267) 433-6636 or fill out the contact form for a locksmith.
Transponder Key | What Is It?
Microchips are used in transponder devices to transfer a low-level signal from a key to a remote receiver. The manufacturer assigns a unique serial number to the microchip. To unlock or open using RFID (radio frequency identification), the receiver must detect the correct serial number. Transponder keys, like key fobs, are frequently used with car locks, home security systems, and open gates and garage doors.
When a car's transponder key is inserted, a signal is delivered to a receiver near the ignition. When the driver turns the key, the car will start if the digital serial number in the transponder matches the one programmed in the automobile.
How To Choose The Right Auto Locksmith to replace your Transponder Key
If you have a lock issue, you want to hire a reputable local locksmith who can help you. Securing your home or business is a key priority for any locksmith. Your home or business is safer when you hire a locksmith. You want to make sure they're knowledgeable, skilled, and reliable. Of course, you want to pay a fair price.
Unfortunately, many unqualified locksmiths prey on unsuspecting customers. Local locksmith adverts can be found online. In actuality, a distant dispatch center sends an untrained technician who argues the essential service is more expensive. Then they demand cash for bad job. Many house and company owners have fallen into this trap.
So, how do you pick the best person for the job? How to find a good locksmith:
1. Know What Locksmith Services You Need
The first step is to identify what service you require. When hiring a locksmith, make sure they can provide the services you need. Requests include:
Installing mechanical or electronic locks on homes and businesses,
Changing or rekeying locks
Locks repair,
Duplicating keys,
Replacing access cards and key fobs with
Locks and doors for high-security business applications;
repairing keyless, biometric, or access control systems
Responding to emergency lockouts or broken locks.
2. Find a service provider.
Next, find local locksmiths using an online search or a local directory. Find out what services each supplier offers and reduce your options to a handful nearby. Call or visit their websites to find out which companies provide the services you require. Specialize in residential, commercial or emergency calls.
If the service isn't urgent, find out which locksmiths can arrive at a time that suits you.
3. Inquire About Covered Locksmiths
Your homeowner's, business, or auto club insurance may cover the cost of lock repair, installation, or lockout services. If they aren't covered, they may have a list of providers who offer member discounts.
Find out if the company you hire is insured or a member of an association like AAA. Pre-authorization is sometimes required. Consult your insurance company or membership club for details.
4. Get a Service Cost Estimate
Then you should find out how much the service will cost. If you have a membership that provides coverage or savings, be sure the locksmith knows about it. Confirm that the estimate includes all applicable fees. Remember to request written quotes.
5. Ask for Credentials
Pennsylvania does not need locksmiths to be licensed to operate. However, a license can provide you additional piece of mind. The ALOA, for example, certifies locksmiths' professional knowledge and skills. Most states demand locksmith certification and a clean criminal record.
Ask to view the locksmith's business card. Verify the firm name on the estimate. This ensures clients that they are genuine service providers. Ask to see a locksmith's credentials before hiring them. If they have professional credentials, they should be happy to present them.
6. Study the Documentation
Finally, when the locksmith arrives to conduct the repairs or services, ask to confirm the estimate. Wait until you've agreed to the job quoted before paying for the service.
Ask for your ID and sign an authorization form. But don't panic, this is a good sign. Before starting work, they should ask for your identification and other information to verify your ownership.
A common authorization form requests:
Name, Address, Phone, ID, desired Locksmith service, and Signature
It's business as usual. Read the fine print to know what you're agreeing to.
7. Get a Locksmith Invoice
When the job is done. Obtain a copy of the final invoice for services. Replacement locks, locksmith work time, and emergency service fees should be itemized. This list may be required by your insurance company or membership organization.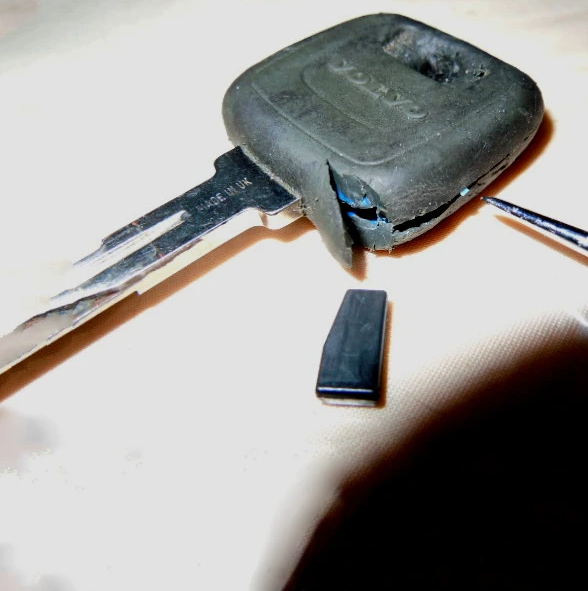 How Do I Get a Transponder Auto Key Copy?
You may not know where to turn if your transponder key has been stolen, lost, or no longer works. Locksmiths can help you get a replacement key, a fresh battery, or even a new key programmed. Many individuals are unaware that locksmiths can aid with remote key issues. In order to replace or reprogram a remote car key, locksmiths utilize the same tools as car dealerships. For a fraction of the price, they can make a perfectly working chipped car key.
How Much Does It Cost to Replace a Transponder Key?
This is perhaps the second most often asked question about transponder key replacement by locksmiths. Traditional rekeying is substantially more expensive than having a key with a microchip replicated. Furthermore, vehicle dealerships typically charge far more for a new transponder key than car owners think.
Microchips, which are found in the heads of keys, are costly to purchase for anyone, even dealerships, and locksmiths. The typical key component of the automobile gadget can be readily and inexpensively duplicated. You might be able to open the doors or roll down the windows without the microchip. When you turn the key in the ignition, however, the car's engine will not start.
Give us a call today to learn more about our vehicle locksmith for transponder car keys or request locksmith service at (267) 433-6636.
Self-Programming a Transponder Key
Our Philly-locksmith experts have also been asked "Can I Program a Transponder Key on my own?" No, to program the key, you'll need specialized tools and training. But your local locksmith, in addition to the car dealership, should be able to help.
How to Get Your Keys Out of a Locked Car
Here are a few things you can try if you find yourself standing outside your car with your keys stuck inside.
If your car has electronic buttons on the edge of the window, you might be able to unlock it with a straightened coat hanger. First, on one end of the coat hanger, make a small hook. Then, put the hanger between the rubber and the glass on the top side of the window frame. Slowly bend the wire as you put it inside the car. Then you need to aim for the electronic button to open it.
By moving the back seats, the driver of some cars can get into the car through the trunk. If your trunk is easy to open, this could be a different way to get into your car.
For cars with locks that are built into the inside of the door handle, an emergency locksmith will be needed.
Key Fob Replacement Vs Transponder Key Replacement
Replace Your Auto Remote Key VS A Transponder Key
Nowadays, remote keys replace flat metal keys in most autos. They are usually equipped with transponder locks that do not require passkeys. It will help you to know the differences between a transponder key and a car key remote. The main distinction is that a transponder key works without a key or a physical locking mechanism. It is also required to start the engine. A remote key will unlock the car and start it. The automobile can be started with metal keys if the remote key doesn't work.
Some keys have a remote unit built into the head, making them a two-in-one gadget. Some cars have a remote control built into the key. If your remote key breaks, you can use the flat metal key to open your car and silence the alarm. Remote transponder keys have a control chip embedded in them, which helps with security by adding an extra layer of defense against burglary. Their unique serial number is set when the transponder system is first programmed.
This microchip will trigger the car to start when you want it. After the system checks the serial number, the car's engine starts after the immobilizer is turned off. Notably, the car engine won't start without the serial number. A conventional automobile key with no buttons is cut to turn the locks and be programmed to effectively disable the immobilizer. The fact that each key is programmed differently reduces the risk of burglary.
Remember that if the transponder chip is damaged, your car's engine will not run. In these circumstances, the alarm will sound. Generally, this issue should be taken to a locksmith with familiarity with transponder systems. Transponder systems are installed in luxury vehicles to deter potential robbers. The advanced characteristics of the vehicle make it difficult to steal.
TRANSPONDER KEY SERVICING
Even if a transponder key is useful and complex, it can be broken or damaged by misuse. In such circumstances, they must be reprogrammed to perform flawlessly. Damaged transponder keys should always be repaired by a trained locksmith.
Our locksmiths at Philly-locksmith.com are trained to work with special instruments to repair automobile keys and reprogram transponder keys.
AUTOKEY REMOTE SERVICE
The automobile key remotes must be replaced or serviced. Your automobile key remote may develop misaligned buttons or damaged units over time. To avoid such complications, you must have your keys repaired by a locksmith. If you don't have a spare key, the locksmith can create a replacement remote.
Transponder Keys
Transponder Car Keys are divided into two categories:
Note: Different locksmiths have various types of equipment and transponders from various manufacturers. Some are superior to others. You will never have to worry about the battery dying on you and leaving you stranded if you get one that does not require one.
Zero-bitted keys are designed to be duplicated, with no pre-programmed inscription.
Encrypted keys feature pre-programmed, random encryption that must be entered into the vehicle.
What distinguishes the two?
The locksmith clones your key onto a zero-bitted key blank by first inserting your key into a tool, then inserting a key blank into the same tool.
The locksmith is adding a unique, encrypted key to your system when he brings a new key out to your car with a tool that he connects to your car's OBD port to program the key.
NOTE: Some Makes require a functional key, and in some circumstances all working keys, to be present when adding an encrypted key to your automobile. If they aren't, the keys may fall out of the computer in the vehicle.
Batteries?
Yes, certain transponder keys function as signals without the use of a battery, while others require the use of a microchip and battery (due to copyright laws, different manufacturers make chips in different ways).
Dependable Philadelphia Transponder Chip Key Replacement Experts
Get quick & dependable service for all your Chip Key Replacements!
Call (267) 433-6636