Ignition Key Replacement Philadelphia | Car Key Replacement Philadelphia
Car Key Replacement Philadelphia | Auto Locksmith Services
Call for an experienced mobile car locksmith or automotive locksmith Philadelphia services.  We provide car key lockout assistance for all key types including transponder key replacement, key fob replacement & fob key programming, key programming, broken car key replacement, and more in Pennsylvania.  Our Ignition key replacement service can take care of your lost or locked-out situation in no time.  Let us be your locksmith in Philadelphia.
LOST CAR KEYS | WHAT TO DO IF CAR KEY IS LOST?
If you're locked out of your car, call our nearest car locksmith to arrive in just 30min, unlock your car, and even cut a new car key in no time! On-call 24/7.
We provide 24/7 car lockout solutions throughout the Greater Philadelphia area. If you find yourself in a car lockout emergency situation, contact our emergency auto lockout locksmiths.
Misplacing, or worse, losing, your car keys wasn't a major concern not long ago. You may have even had a spare attached to your car in the form of a small box fastened to the inside of the bumper. However, as cars have become more technologically advanced, so have their keys, which can be more expensive to replace than ever before.
Depending on the model and year of your vehicle, replacing a lost or stolen key may necessitate numerous procedures and several hundred dollars. If you don't have a spare car key, make one and keep it somewhere safe.
Here are the five most common varieties of automobile keys, as well as advice on what to do if yours goes lost.
Traditional Automobile Key
The typical key used in the automobile industry is entirely mechanical; insert it into an ignition cylinder and spin it to start your vehicle.
If you lose it: You can call our locksmith, and our pros will come out and make you a new key right away. In rare circumstances, such as with an odd or vintage vehicle, a local locksmith may be unable to assist. A new ignition lock cylinder and key may be required from the dealer or an independent repair shop.
Car Key Fob
The original fobs were accessories designed to be useful. They can lock and unlock your vehicle, but you must still start it with a standard key. The key can also be used to open and close the doors.
If you lose it: If you only lose the fob, you're fine. You can still use your key to unlock and start your automobile. Fobs are widely accessible as aftermarket items and are easily programmable; no special tools are required. They are available at dealerships, auto parts retailers, and online. They're also reasonably priced.
Switchblade Key and Car Key Fob
Following the release of the disconnected fob, automakers merged the two in a device that would lock and unlock a vehicle with a spring-loaded key that folds into it, similar to a switchblade.
If you misplace it: An aftermarket fob with a switchblade key costs around $125 to replace, which is more expensive than a standard fob. These can be found most simply at a dealership, where they can be cut and programmed on-site; they are also available online.
Transponder key
Transponder keys were developed by automakers in the early to mid-1990s to be a better anti-theft technology. Transponders are ignition keys with a plastic head implanted with a computer chip; they rely on a wireless link between your key and the car before the ignition will engage.
If you lose it: If you don't have a backup key, you'll need to have your vehicle towed to the dealership and provide proof of ownership documents before you can buy a key. (If one must be ordered, the wait time could be several days.) The replacement computer chip will then need to be electrically paired with your car by the dealer. Aside from towing fees, the replacement key will cost between $200 and $250.
The Smart Key
A smart key, often known as "keyless ignition," is connected with vehicles that feature a start button on the dash. Smart-key technology works by using a proximity sensor in the vehicle to detect when the smart key (which is not a key at all, but rather a coupled sensor) is nearby. The vehicle is then unlocked and can be started with the push of a button.
If you lose it: If you don't have a backup key, you'll need to tow your car to the dealership, then order a key (if the dealer doesn't have one in stock) and have it matched to your vehicle. The most expensive of the keys, they can cost up to $320 to replace, with a towing fee on top of that.
Before you begin to panic, however, hopefully, you have found our web page and have already decided to call Philly-Locksmith.  Either call us at (267) 433-6636 or fill out the contact form for a locksmith.
Keys locked in the car

Keys locked in the trunk

Keys locked in car removal

Lost car key replacement
Stuck key in the car ignition

Jammed key in vehicle lock

Buggy car locks

Lost car keys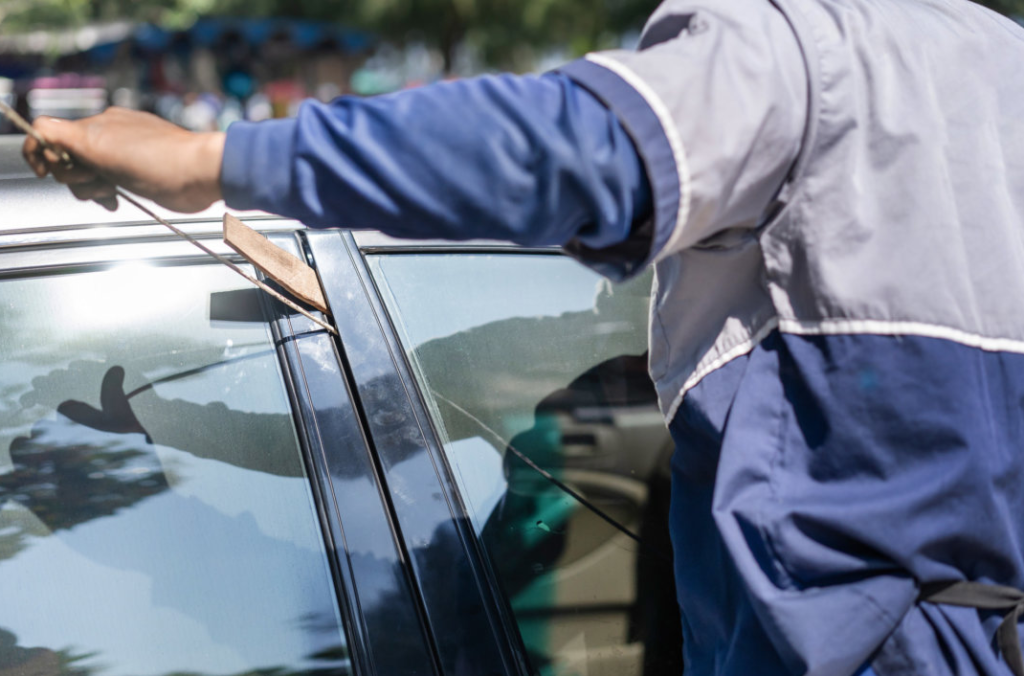 Affordable & Quick Philadelphia Locksmith | Mobile Car Locksmith
Our team of licensed, bonded mobile car locksmiths know Philadelphia inside and out ­which means we can respond quickly to get to any car lockout emergency, anywhere in Philadelphia. Whether you've accidentally locked your keys in your trunk in South Philly, lost your transponder in Center City, or dropped your fob in the bowl of Fishtown, our locksmith Philadelphia specialists will get there in a flash!  And our car key locksmith will get you new keys right away!
Emergency Automotive Unlock Locksmith
We know that losing your car keys or getting locked out of your car is stressful ­ that's why we make every Philadelphia car key replacement, key fob replacement, broken car key replacement, and pop lock service call a priority. Philly-locksmith automotive locksmith experts have the tools and automotive locksmith service to get you back in your car door in minutes.  Our local lockout locksmiths won't keep you waiting, and when you call us, you won't get hit with a huge bill ­our low service fee, combined with our fast, friendly emergency locksmith company has earned us a reputation as the best local car unlock service! For immediate help with your car, truck, or van lockout, give us a call today to learn more or request service at (267) 433-6636.
Broken Car Key | Philly Locksmith Services
If your automobile key has broken in half, you may be stranded. You might need to contact a tow truck, and no one wants to pay that bill. When your automobile key breaks in half, you have a handful of options. If you have both components, read on for details on how to repair them.
Contact the Dealership
Nobody enjoys phoning the dealership. To put it another way, no one like purchasing something from a dealership. Let's be honest: things can get expensive. However, you can be certain that you will receive the exact parts you require. You can contact us at (267)433-6636 or the local dealership and request a replacement key while explaining the issue. They may require information such as the VIN number.
It's Super Glued
A broken automobile key can be temporarily repaired by supergluing it together. However, you must use extreme caution when doing so. You don't want the key to fall out of the ignition or the door. If you reside in a safe area, you may always leave the key in the ignition and gently turn it off until the replacement arrives.
Contact a Philly-Locksmith Near Me
Our Philly-Locksmiths are not only used in homes. You can get into your automobile by calling auto locksmith experts. If you misplace a key or it breaks in half, you can contact a local locksmith as well. Our professionals will immediately come to you and create another key. For newer vehicles, it is critical that they include programmable electronics.
What Happens If Your Key Breaks Through The Door?
Other than panicking, there are certainly other options for dealing with the circumstance. With half your key in your hand and the other half in the keyhole, it may appear that you now have no way in. There is yet hope! There are some tools on the market. However, not everyone has them on hand.
Methods for Removing a Broken Key from a Lock
Get a key extractor tool. These are effective. It will, however, take some effort. Some folks have removed the broken key with a hair clip. Simply insert the bobby pin into the lock and take out the shattered part.
The key can be extracted by drilling. This is the method of last resort. It is not recommended since it can damage the lock.
Take out the lock. Remove the lock and try to tap the underside if you can. Sometimes the key will simply fall out due to gravity.
It's super glued. This was mentioned as an efficient strategy earlier. You can remove the broken key by dabbing it on the end of your key and inserting it firmly into the lock. Hold it for around 15 seconds. Then you should be able to extract the broken key.
Is It Possible To Repair A Car Key Remote?
Keyless remotes, or fobs, can be costly to replace because they must be sold or configured through a dealership. Cleaning the contacts on your keyless remote is a simple way to repair it.
Is It Possible to Repair a Broken Key?
Instead, you should take the broken key to a Philly-locksmith expert near me or your local hardware store. They will resolve the issue by creating a new key using both halves of the key. The best way to repair a broken key that has snapped into pieces is to replace it!
Whenever you need the assistance of a professional auto locksmith in Philadelphia, don't hesitate to call a mobile locksmith service.  If you've misplaced or been locked out of your ignition key, our replacement services can help you out immediately. Count on us as your go-to locksmith service in Philadelphia!
Replacing Car Keys | The Key Safety Service in the City of Philadelphia
For the best AAA car lockout services and auto locksmith services in Philadelphia call us today!
Call (267) 433-6636